As the leading IVF clinic in Spain, URvistahermosa-MHC offers the most comprehensive and personalized services as each fertility case is unique. We tailor each treatment to meet the needs of each individual — guaranteeing the best possible results through the services of the top-rated fertility and genetics unit. Over the years, we have helped patients from more than 20 countries to become parents.
We are here to provide the most effective treatment for you from a team of highly qualified professionals and use the best technology. As the most prominent IVF clinic in Alicante, our team delivers confidence, quality, and security in a hospital environment. All of your procedures take place in the same center as to not lose essence or increase the costs, which also – makes better communication. Here at URvistahermosa-MHC, we minimise the anxiety and concerns that you may have with continual support and a transparent program. From innovation, formation and continued improvement — our professional IVF team is always thinking about every patient.
UrVistahermosa wants to help you achieve your dreams by providing all the necessary support, encouragement, professionals and technology available, to help you have a baby.
Why Choose URvistahermosa-MHC
Personalised service from the first contact and throughout treatment (consultation, trip, accommodation, treatment…)
Located in the top-rated hospital — Hospital Clinic Vistahermosa (Alicante-Spain)
Multidisciplinary team of gynecologists, geneticists, embryologists, andrologists, nursing team… and more
High success rates — up to 99% of success rate in blastocyst transfers
Professional relationship and coordination to offer better service and highly qualified attention
Utilize ALL three time-lapse systems Embryoscope, EEVA and Geri to improve the embryo selection before the embryo transfer to maximize the chances
Hospital Clinica Vistahermosa
Hospital Clinica Vistahermosa is a private facility based in Alicante specializing in IVF and human reproductive treatments in Spain. The hospital enjoys an excellent reputation with local and foreign communities in Europe. Fertility experts operating at Clinica Vistahermosa are committed to helping couples struggling with infertility have healthy babies and fulfill their dream of creating a family.
The fertility center is in one of the leading human reproductive facilities in Spain to provide an individual, personalized IVF treatment and a high level of quality care—at an affordable cost. Throughout the year, the clinic runs a full teaching program of courses, workshops and seminars aimed at professionals, its own students and staff working at other hospitals and clinics. The clinic has an institutional policy of supporting training and research, leading it to sign agreements with a number of bodies and institutions, such as Miguel Hernandez University and the University of Alicante.
Based in an area of the city that is easily accessible via all forms of transport, the hospital has a full range of facilities and amenities enabling it to provide patients with a comprehensive set of medical services.
The complex has a total of 93 bedrooms; Intensive Care Unit; 24 hour hospital; fully equipped surgical suite for major and minor surgery, childbirth and emergency surgery, with 5 general and 3 specific operating theatres and several medical care areas; medical and paediatric emergencies unit; plus a wide range of specialist units for various treatments and pathologies.
Contact clinic and get a free quote
Reviews
Doctors was nice and kind, thanks for your attitude.

I had a wonderful Experience at this clinic, at 46 years old my chances of conceiving were very low and in the UK the process would be very expensive and quite demoralising. Immediately upon contacting the international team I was treated quickly, efficiently and most of all with understanding and compassion. I now have a beautiful son for which I am eternally grateful and I still kep in contact with the lovely staff. Do not hesitate to use this clinic, it is clean, modern, centrally located, reasonably priced and very successful.

I can't speak highly enough of everyone involved in our treatment at URVistahermosa. All of the staff were very informative and helpful as well as friendly, especially Salome and Mercedes. The clinic is in an ideal location, 15 minutes drive from the airport and around 5 minutes drive from the city, beach and harbour. The cost of our treatment was very reasonable compared to other clinics that we had looked at. We were very pleased with the service that we received, both before, during and after treatment. We required donor eggs and were delighted that a donor match was found straight away, we had two blasts transferred and are currently awaiting the outcome, big day tomorrow XX

A very scarey one with lots to worry about. Overall though a very satisfying result. The Hospital was clean and staff were friendly and caring. The doctor seemed thorough and professional. We had two visits to the clinic and from the airport took no time atall. The hotels were brilliant and by the beach. Translation was fine. I would recommend this clinic to others.
Staff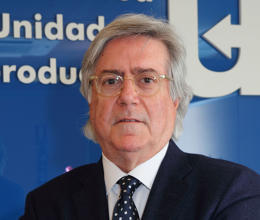 Dr. Lopez Galvez
IVF Specialist
---
Dr. Lopez Galvez is one of the highly respected fertility expects in Europe and specializes in providing word class fertility treatments in Spain.